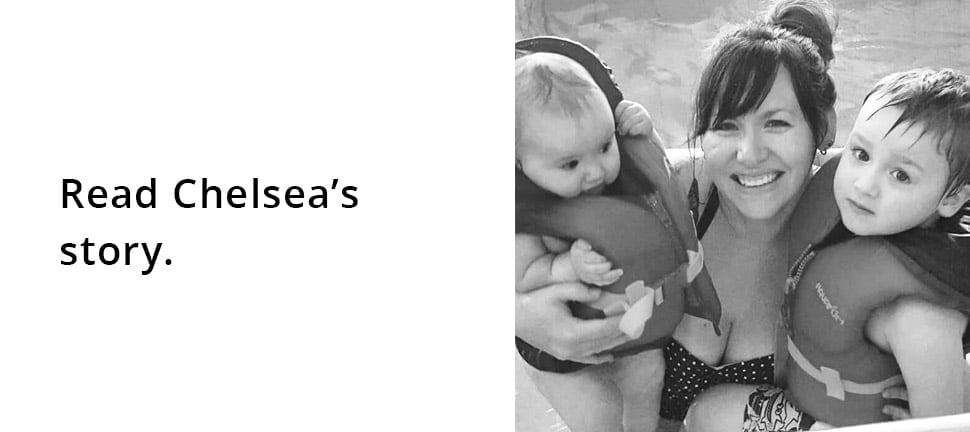 It was just a simple thing…until it wasn't.
A young professional and a mother of two, Chelsea has sought chiropractic care for years to help with her scoliosis, pre- and post-natal care, and pregnancy-related sciatica. Here is her story:
"I started chiropractic treatment seven years ago due to my scoliosis. From a young age, I was told it would never be reversed. After seeking the help of a chiropractor, I learned that chiropractic care can help relieve the symptoms of scoliosis. After receiving treatment, I felt a lot of improvement with the symptoms that had caused me pain for much of my life. After two years of treatment, the benefits I felt were incredible.
Since then, I have continued to see my chiropractor to help relieve pain.
I started seeing my chiropractor weekly when I was pregnant with both children—my sciatica was pretty bad. It made a big difference. I truly believe that both my labours went so smoothly because of the alignment of my pelvis in the days prior to giving birth. As time went on, my post-natal appointments were crucial for relieving the shoulder and back pain from breastfeeding and carrying a baby all day. I actually had an issue with my pelvis from propping my daughter on my hip while cooking dinner! Thankfully, my chiropractor's treatment set me straight. I don't know where I would be without my chiropractic therapy."
Pain changes everything. Chiropractic care changes pain.
Tell us your story of how chiropractic care changed your pain!