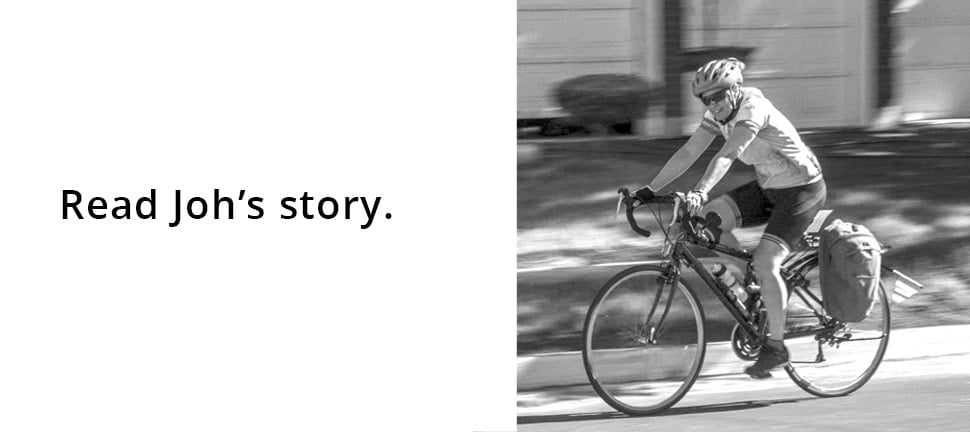 It was just a simple thing…until it wasn't.
As someone who has been active with sports her whole life, Joh admits she has had trouble with pain, sprain, and strain. Chiropractic care has helped keep her moving and accomplishing new physical challenges that are greater than ever! Read Joh's story:
"From a young age, I've been very active in recreational sports (activities which have included skiing, skating, snowshoeing, canoeing, kayaking, softball, hiking, tennis, and cycling, just to name a few!). I've also played badminton competitively for over 30 years. Inevitably, over the course of my life, I've managed to injure myself more than once—injuring several ligaments in my knees and experiencing tennis elbow—along with the years of sprain and strain that have taken a toll on my back.
Recently, I took up a more intensive cycling challenge, pedalling my bike from Toronto to Montreal in 2016, which added to the time I spend biking almost daily on my commute to work. I also work at a desk job, and sitting at a computer for long hours has had an effect on my neck and shoulders.
Given all the activities I do (and have done) over the course of my life, the chiropractic treatment that I've received has helped to relieve the tension that I often experience in my knees and back. This care also helped me significantly in completing my long-distance ride to Montreal.
Since my first long-distance cycling trip, I've returned to my chiropractor a few times to re-address issues in my upper back. Every time I go, I feel a lot of relief from tension and improvement in mobility, along with great satisfaction from the treatment I received."
Pain changes everything. Chiropractic care changes pain.
Tell us your story of how chiropractic care changed your pain!