Une chiropraticienne autochtone nous explique comment elle construit des ponts
The CCA acknowledges and mourns the 215 Indigenous children whose remains were found in unmarked graves on the former site of the Kamloops Indian Residential School. We also support efforts to identify all Indigenous children who are buried at similar sites across the country. This tragedy galvanizes our work to create an equitable profession by continuing to learn, educate and make changes that will impact marginalized communities, including Indigenous Peoples.
Dr. Jennifer Ward's dream of opening a chiropractic clinic was met with tremendous doubt. She was denied by financial institutions. She was told she would fail and that no one would pay for her care. Why the pessimism? Dr. Ward is an Indigenous chiropractor who sought to open a clinic on a First Nations reserve. 
Eighteen years later, her clinic on the Opaskwayak Cree Nation in Manitoba is thriving. She sees patients from many reserves in the area and the neighbouring town across the bridge, The Pas, a predominantly white community. Although we do not know how many chiropractors operate on reserves, Dr. Ward believes she is one of the few. That's part of a larger problem facing the profession: we have no information about the diversity of Canadian chiropractors, something the CCA is addressing with its recent research survey on Diversity, Equity and Inclusion (DEI) in Chiropractic. 
"I am the only practitioner left in the area and all patients come to see me," Dr. Ward says. "I feel that I have built a bridge between the two communities. Racism runs deep here and there was a long history of tension." 
"I've had a few patients from town say they would never support an 'Indian' business. They justify their beliefs and say, 'Well, you're different. You're not like the 'Indians' up here,'" she says. "I tell them that I am exactly like 'the Indians up here.' I grew up in a lot of the same ways: on reserve with the same socioeconomic issues and that I was exposed to racism as a child with similar comments. I tell them that their comments are hurtful and that I will treat them in the hopes that, in time they will change their opinion towards Indigenous people.  It has taken years of reconciliation, but over time there has been a bridge, so to speak, built between the two communities." 
Dr. Ward's mission is to bring better musculoskeletal care to marginalized, underserviced communities in northern Canada, and is working with researchers at World Spine Care and the Global Spine Initiative to advance this goal. She grew up in the Mi'Kmaq First Nation community of Natoaganeg in New Brunswick and understands the challenges faced by Indigenous communities, which include poor health outcomes, barriers to care and systemic racism.  
"It's important for Indigenous representation in chiropractic – to have one of our own, listening to us, treating us with respect and valuing our cultural differences – all the while providing quality chiropractic treatment, acupuncture and also information on overall wellness and nutrition. Dr. Ward is a role model to many," says patient Cheryll Constant. "With her treatments, I have a better quality of life and avoided surgery and medications."
Dr. Ward never heard of a chiropractor until she was in university. Growing up on a reserve, there were no chiropractors in her community. Her family had no extra finances to seek care when they had pain. Despite the many road blocks that systemic racism had put in place, including a lack of Indigenous representation in schools and the media, she reached her goal of becoming a doctor. But she says that representation early on would have made a huge difference. In 2014, Dr. Ward was selected as a role model to inspire youth across Manitoba to "Become a Healer" and work toward a career in healthcare. Now, her poster is displayed on bulletin boards in schools across the province.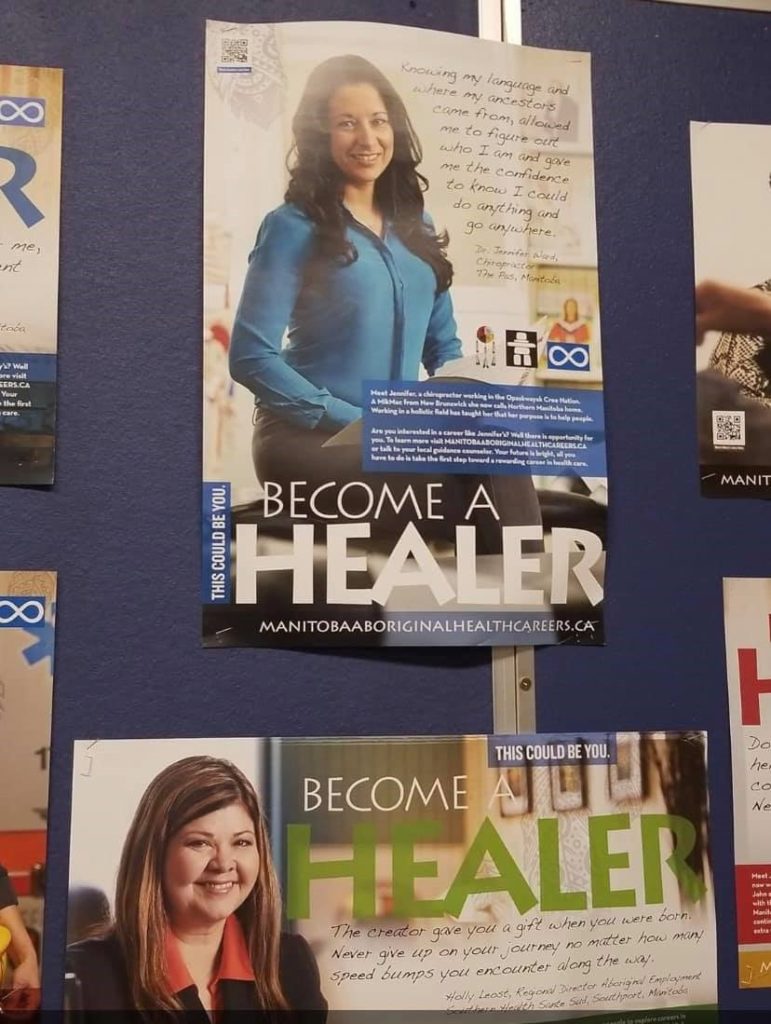 "Do you know how hard it is to find chiropractic posters with my peoples' face on it?" she asks. "And now here I am on a poster. Amazing how things come full circle. I would love to see more of my people becoming chiropractors."
 
But progress is happening. Recently, a 14-year-old girl living in Opaskwayak entered Dr. Ward's clinic, seeking a solution for low back pain. 
"This touched my heart," she says. "I told her that I was proud that her and her friends knew what a chiropractor is, and that she would spend what she had to come in. I ended up giving her a free service because she reminded me of my humble beginnings. We've come a long way as a profession if we can now say that youth, on a reserve, in remote Northern areas would give up their lunch money to get treatment. I'd like to think that me being on reserve and participating in the community has contributed to that." 
As a member of the CCA's DEI Task Force, Dr. Ward hopes to change perspectives and expand chiropractic's reach, especially for those in remote areas or without insurance. Indigenous people no longer have chiropractic coverage under the Non-Insured Health Benefits (NIHB), a federal program providing First Nations and Inuit peoples with healthcare. This prevents many from accessing care. 
In June 2021, Dr. Ward was elected a CCA Board delegate representing Manitoba – the second Indigenous chiropractor to do so. She believes that with ongoing DEI work and representation on the board, change will happen and future generations will not have to face the same barriers. "I'd like to address systemic racist attitudes like the people who said I was destined for failure if I followed my dream," she says. "I would like to address the high school counselor who laughed and told me to 'be realistic' when I told her I wanted to be a doctor."