Dr. Ayla Azad has been a CCA member since 1999. In April 2020, she joined the association as its Director of Professional Practice. In this role, she brings her clinical, research and teaching experience to inform programs and strategies that will best support chiropractors across Canada. We asked her what she has learned about the national association and the work it does for Canadian chiropractors.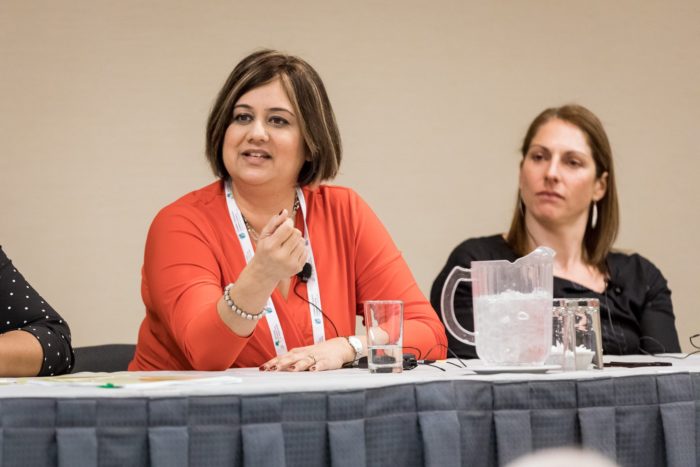 Dr. Ayla Azad at the CCA National Convention & Tradeshow, speaking on the "Women Chiropractors: A Growing Force" panel
How do you think the CCA has benefitted from having the expertise of a chiropractor on its staff?
The CCA has always sought out expertise from leaders in the profession, but it's different to have someone on staff. My CCA colleagues regularly ask for my clinical insights. I know what chiropractors go through – the ups, the downs, being an entrepreneur. Even what it's like dealing with certain patients and other medical doctors. I bring that unique lens so the CCA can continue developing programming to help chiropractors thrive.
What was your perception of the CCA before you began working here?
I always knew the CCA was working away on our behalf in the background. Then over the years, they began talking to us, providing resources, and talking about issues they were bringing to the government. I never knew exactly what the CCA was doing before that and I realized the organization was really making its mark.
Now that I've worked here, I understand how all this meaningful work gets done. It begins with a strong, bold board and a committed, passionate staff, focused on the well-being of the profession. That passion trickles down to everybody. You'd think they're all chiropractors themselves!
What would you like other members to know about the CCA?
I had no idea how much work this small team does for Canadian chiropractors. Take the pandemic as an example: The CCA held webinars on return to practice, how to effectively use telehealth and created all these resources. There was no meaningful coordinated resource out there on how to deal with a pandemic. The team just rolled up their sleeves to make sure chiropractors felt safe and informed.
What is the most important thing the CCA did for its members in the last year?
I wouldn't have been able to open my practice after we shut down in the spring without help and guidance from the CCA. I didn't know what a level one surgical mask was or the many PPE requirements! I wouldn't have understood the government relief programs. As bad as this pandemic is, it has highlighted how a powerful association can be there for you in good and bad times.
One of the CCA's goals is to become Canadians' trusted healthcare profession for spine, muscle and nervous system health. How do you see the CCA working toward that?
When you have this powerful, unifying voice, you're able to reach top government officials making healthcare decisions. I wouldn't be able to do that on my own.
That message rang out loud and clear when I saw the Prime Minister's message during the #ChiroStrong Tribute. After 20 years of practice, to see that we are finally being acknowledged by the highest levels of government was mind blowing. It proves that change can happen when you keep pushing.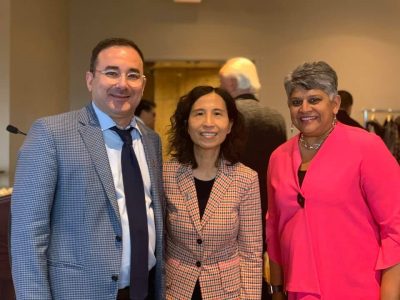 Then President of the CCA, Dr. Gerald Olin; Chief Public Health Officer of Canada, Dr. Theresa Tam; and CEO Alison Dantas at the CCA's President's meeting in November 2019