From the sidelines
Dr. Cheria Morgan was born and raised in Toronto, Ontario. The second youngest in an active family of four children, she was always a go-getter, keeping up with her three brothers without fail. It could not have come as a greater shock to Cheria and her family when, at the age of thirteen, she was diagnosed with a rare, life-threatening autoimmune illness that affected her lungs, kidneys, and sinuses.
On life support and in a medically induced coma for weeks, she lay still in a hospital room. Seemingly lifeless, the doctors explained to her parents that they had tried everything to bring their daughter back to health. If Cheria were to recover, doctors cautioned she would likely be a 'vegetable.' With the odds stacked against her, Cheria persevered — her family knew that she would prove to herself and to the doctors that she was a fighter. Even throughout the most challenging times of her recovery, including re-learning how to walk and write, she was determined to regain her strength.
Thanks to a team of experts at The Hospital for Sick Children (SickKids Hospital, Toronto), Cheria returned to everyday life, eventually being healthy enough to attend high school with her friends and support her brother at his track and field meets. She watched and encouraged her former teammates from the sidelines – once fully recovered, she was able to rejoin the sport she always loved.
Going for gold
Recruited for track and field from her high school in Ajax, ON to the University of Illinois, at Urbana- Champaign, Cheria continued to have high ambitions. With the guidance of her academic counselor, Cheria graduated with a Bachelor of Science in Kinesiology, all while training and traveling with her college team at consecutive Big Ten Conference Championships over the course of four years.
Driven to take her athletic career to the next level after graduation, Cheria returned to Toronto to train as a post-collegiate athlete at a high-performance hub, before going on to place sixth in the Women's 100-meter Final at the 2012 Canadian National Olympic Trials in Calgary.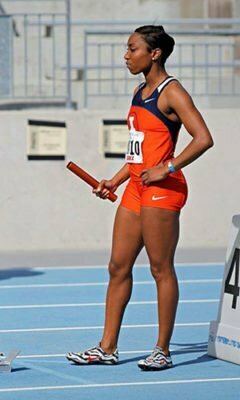 Getting back on track
The same mindset that set Cheria on a path to recovery and athletic success, including her tenacity and persistence, fueled her during her time at the Canadian Memorial Chiropractic College (CMCC). A model student, Cheria tutored, acted as a Student Athletic Director, and served as President of the CMCC Students' Council where she organized the first Black History Month Celebration and the inaugural 'Wellness Day' focusing on mental and physical health.
After obtaining her Doctor of Chiropractic degree, Magna Cum Laude in 2020, Cheria quickly settled into a full-time position at Evolve Chiropractic and Physiotherapy in Toronto. Her experiences surviving an autoimmune illness and recovering from numerous sports injuries as a former NCAA Division I Athlete and Team Canada member, impact her practice and patient care today.
"As an athlete, I've experienced different injuries, different chiropractors and various modes of manual therapy. These experiences have provided me with personal knowledge and a unique perspective when treating my patients. From my previous injuries, I can relate to patients trying to explain their pain and not being able to find the right words or feeling as though nobody believes them or understands what they are going through. I've been able to leverage some of my personal challenges to help me become the best version of myself, both personally and professionally."
Though Cheria is no longer running track and field, she remains active, playing in a soccer league with friends from CMCC and recently trained for a 5 km run with colleagues in April. After celebrating one full year in practice, Cheria is pleased with her transition into the field of chiropractic, and to have achieved what seemed to be the impossible after her diagnosis. Now, every day is filled with the opportunity to learn and engage with patients, helping them to overcome their hurdles and achieve their dreams.
Author: Rachel Winer | Published in Back Matters Issue 23
---
Related Posts: