It has been a challenging time for the residents of British Columbia. In addition to navigating through the constantly evolving COVID-19 pandemic, the province has been hit hard by a series of natural disasters, with the latest coming in the form of heavy storms that led to severe flooding. The most recent extreme weather conditions come on the heels of a summer of heatwaves and wildfires. These events have destroyed communities and forced many people out of their homes. Many residents have responded with kindness. From providing shelter to donating food to assisting first responders, British Columbians have banded together to help those in need. One of the many selfless British Columbians who went above and beyond the call of duty is a chiropractor from Kamloops, Dr. Stephen Karpuk.
Dr. Karpuk has been living in the Kamloops area for over 40 years and serves patients at Aberdeen Chiropractic Clinic, a practice he opened in October 2003 shortly after graduating from the Canadian Memorial Chiropractic College (CMCC) that same year. He is an active member of the community and knows many of the families living in nearby towns. Before becoming a chiropractor, Dr. Karpuk worked in forestry and did his master's thesis in fire ecology.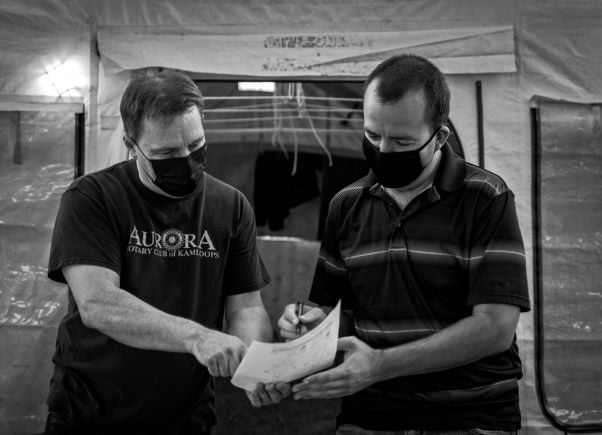 Photo credit: Peter Olsen
Stepping up to help first responders
In August 2021, while wildfires were ravaging British Columbia, Dr. Karpuk pitched in to help. He got in touch with Rob Schweitzer, Director of BC Wildfire, and volunteered his services. For six consecutive weeks, six days a week, after a full day at his clinic, he travelled to the Kamloops Wildfire Camp to volunteer his time to treat firefighters and others on the front lines battling the wildfires. Dr. Karpuk personally treated a total of 112 different fire personnel and accumulated a total of 232 treatment encounters.
"I have always made it a priority to treat first responders at my clinic because they are essential to keeping our communities safe," says Dr. Karpuk. "During the forest fires, wildfire crews and other emergency personnel were breaking their bodies putting out fires to save people, property, and protect communities."
"There were men and women who would spend long hours working on fires, and working behind the scenes, performing body breaking tasks in extreme heat and smoke," describes Dr. Karpuk. Many personnel finished their shifts in pain, some in so much pain that they couldn't even stand up or bend over to take their clothing or boots off. I did what I could to help relieve pain and improve their physical functioning so they could go back out there the next day and do it all over again."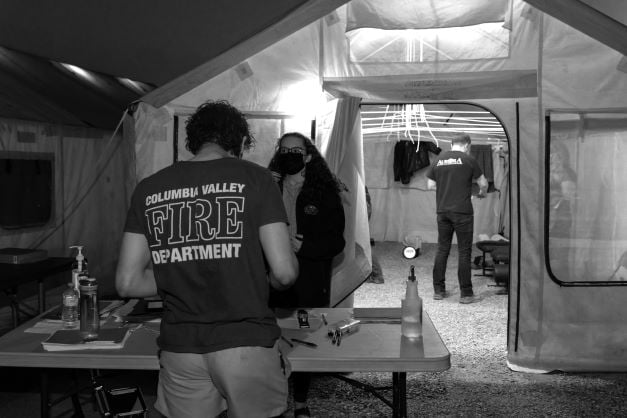 Photo credit: Peter Olsen
The motivation to lend a helping hand
Dr. Karpuk is a charter member of the Rotary Club of Kamloops Aurora Centennial. Community involvement and volunteerism are a big part of being a Rotarian. Their principal motto is 'Service above Self' because it conveys the philosophy of unselfish volunteer service. It would be logical to conclude that his connection with the Rotary Club is the driving force behind him volunteering to treat firefighters. But when he was asked why he did it, Dr. Karpuk cited a different reason. He credited his experience at the Canadian Memorial Chiropractic College.
"I had the privilege to meet and learn from great educators while studying at CMCC and many of the things I have learned have stuck with me.," says Dr. Karpuk. "I recall being asked, 'If you were the first or last chiropractor in the world, would all that you do, in and out of practice, cause the profession to flourish or fade away?' I have always sought opportunities to help others and make a positive contribution to our profession. Volunteering to help treat fire personnel allowed me to play a small role in helping to combat the wildfires. It also demonstrated how chiropractors can improve the quality of life of the workers in these extreme conditions, reduce workplace injuries (a goal of BC Wildfire), as well as show how chiropractors can play a greater role in the health care system."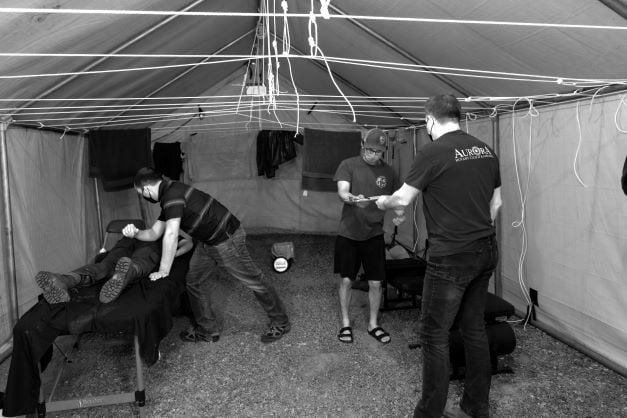 Photo credit: Peter Olsen
Dr. Karpuk says following his experience, he has put the British Columbia Chiropractic Association in touch with BC Wildfire to see how future fire years can include chiropractic services, either as paid contractors or pro bono. It is his hope that through the provincial and national associations that these services could be set up across Canada. He believes chiropractors can play a vital role in emergency situations and this summer proved that it can work.
"We had teams from BC, Alberta and New South Wales, Australia coming in to assist with the wildfires," recalls Dr. Karpuk. "It was a privilege and honour to treat those who were working tirelessly to contain, control and ultimately put out the wildfires. My hope is that in the future more chiropractors will volunteer or become part of wildfire camp staff so they can treat emergency personnel on the front lines and help them be the best they can be to respond to the crisis."
Dr. Karpuk noted that thanks and recognition also need to go to doctors Rylan Brouwer and Elise Bilodeau, along with Matt MacDonald and many other local registered massage therapists (RMTs) who volunteered to help. Also, that further communications with Rob Schweitzer facilitated some DCs and RMTs in Vernon, BC being able to work at their local fire camp in September. Lastly, Dr. Karpuk is extremely proud of his 16-year-old daughter, Alexandra, who volunteered to help each night at the camp by organizing paperwork and bookings.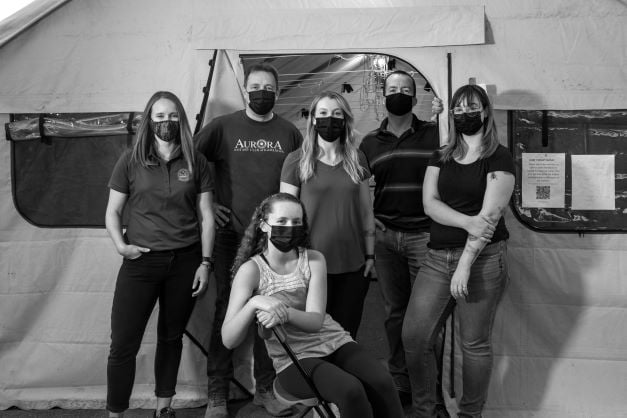 Photo credit: Peter Olsen