Dr. Gerald Olin: Winnipeg's team chiropractor
It was the summer of 1990 when Gerald Olin started experiencing relentless migraine headaches. He was in his first year of university and working as the assistant general manager for the Winnipeg Fury soccer team. After struggling to find relief for his migraines, he was advised to see a chiropractor.
Having never had a chiropractic treatment before, Olin borrowed a book on chiropractic from the University of Winnipeg resource centre. He wanted to better understand the profession. Suddenly, he saw a new career path.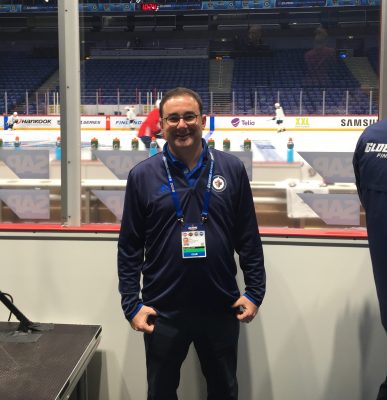 When Olin graduated with his Bachelor of Science degree, he recognized the emerging role for chiropractic care in sports medicine and decided to become a chiropractor. Chiropractors work with professional athletes as part of an interdisciplinary staff team, providing spine, muscle, and nervous system expertise to enhance performance. And that's just what Dr. Olin does today … for the Winnipeg Blue Bombers (CFL), the Manitoba Moose (American Hockey League) and the Winnipeg Jets (NHL).
"Elite athletes are very aware of their bodies and can identify the benefits of chiropractic care," Olin says. "Sports organizations want a team of people to provide care for the athletes. We all want to see our athletes and the teams they play for succeed. That's why we work together to ensure players have every resource available to enhance performance."
Winnipeg Jets
For the Winnipeg Jets, Dr. Olin most commonly treats neck, mid back and low back pain. But it isn't unusual for players to have extremity injuries and pain as well. His treatments usually consist of adjustments and myofascial therapies – which generally involve the application of pressure to a specific area.
Mount Carmel Clinic
In addition to his work with sports teams, Dr. Olin also serves as liaison to the chiropractic program at Mount Carmel Clinic in Winnipeg. Here, patients include people from low-income neighbourhoods, members of the LGBT community, new immigrants, teens and the homeless. According to Olin, many of Mount Carmel's patients are part of a population of Canadians who are at a higher risk for opioid addiction. Seeing the success of the chiropractic program with these communities, Dr. Olin sees a potential solution to the opioid crisis in Canada.
"One of the interesting connections between professional sports teams and Mount Carmel Clinic is that both have interdisciplinary care approaches," shares Dr. Olin. "In both cases, we manage the care of our patients with other healthcare providers as part of a team."
Olin knows there will always be individual practices but recognizes there is no downside to integrating chiropractic into healthcare teams and interdisciplinary clinical settings.
"We are starting to see more chiropractors providing spine, muscle, and nervous system expertise as part of healthcare teams, and the evidence suggests that this team-based approach to care is beneficial for our patients, and a great opportunity for our profession."